August 2015 E-Blast
MFE Announces #KeysPics Photo Contest!
Have you ever seen or experienced an extremely cool "happening" around our Keys for the City Street Pianos in Downtown Lancaster? Ever wish you could capture that "moment" and help us document the fact that Lancaster is the "Street Piano Capital of the World"? What if you could have your picture published in Fig Magazine and/or receive a CASH prize for it?
Well, now you can with the MFE's #KeysPics Street Piano Photo Contest.
Regardless of whether you are a professional or amateur photographer, all pics are welcomed.
To enter your picture simply visit one of the Keys for the City pianos and look for the camera icon (like the one below) and scan the QR code. Or, Visit https://www.facebook.com/MFELancaster/app_476903445798909 and follow the contest entry instructions.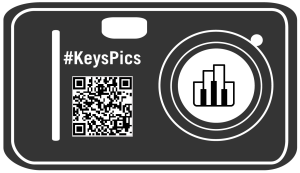 Submission period runs from July 15th to September 4th. You may submit as many pics as you like! Good luck!!
Welcome Jonathan Shoff, New MFE Community Chorus Artistic Director!
With a heavy heart we say goodbye to A.J. Walker as the MFE Community Chorus Artistic Director as he pursues further education. His contribution, energy, and creativity will certainly be missed!
While we are sad to say goodbye to AJ, we are absolutely thrilled to welcome our new Artistic Director Jonathan Shoff.
Who is Jonathan you ask?
Jonathan Shoff is thrilled to serve in his new role as Artistic Director of the Music for Everyone Community Chorus. He has enjoyed singing for as long as he can remember, and has been involved with choral groups for over twenty years as a singer, accompanist, or director. He holds a bachelor's in music education from Millersville University and a master of music from West Chester University, with concentrations in piano and voice. Jonathan teaches elementary school music in the School District of Lancaster. In May of 2014, his students sang the National Anthem at a Barnstormer's game. He has also served as accompanist for the Mennonite Children's Choir of Lancaster for six years, as well as founding and directing its Men's Ensemble. In the summer of 2014, he led the choir's New York tour, directing performances at missions, churches, and at Westminster Choir College. Locally, Jonathan gives private piano and voice lessons. Besides school concerts, he has been involved with thirty musical theatre productions in the mid-state area. He is also an experienced vocal and instrumental arranger. Jonathan lives in Lancaster with his beautiful wife, three energetic children, and a very friendly dog.
Behind the Scenes Music Series Returns!
On August 27th, at Annex 24, local musicians Hiding Scarlet will host a benefit for Music for Everyone.  They will be joined by regionally touring act Mission Zero, as well as local favorites, Navogator. This evening will feature music from all three acts as well as an intimate discussion about being a professional musician and a music educator. In addition, there will be several local artists displaying their works.
Admission is a suggested donation of $5 and includes light fare. Additionally, the event is BYOB with some refreshments provided. The event will run from 6:00PM to 9:30PM and all proceeds will go directly to MFE.
Save the Date – Saturday September 19th for the MFE Fall Barn Bash!!
Go ahead and mark it down in ink! The one and only Mikey Jr. will be rockin' the Barn Stage on the Gerdy farm. If you have been to one of these, you know what we're talkin' 'bout! If not we assure you it'll be in your best interest to be there. Formal invitations will be mailed shortly. If you have questions, contact John Gerdy: JohnGerdy@aol.com. And remember "There ain't no party like a barn party".
Lancaster, PA "Street Piano Capital of the World"
As you have heard, (literally, Keys for the City pianos are still on the streets in downtown Lancaster. And while you've heard those pianos, have you also heard that Lancaster is the "Street Piano Capital of the World"? We can make this claim based on several metrics:
Consecutive years for the program: We've placed pianos on the streets for six years running, the most consecutive years of any city that we are aware of.
Length of program: Our pianos are out for use by the public 24/7 for over four full months. Again, a longer stretch of time than any other city we are aware of.
Piano per capita: Lancaster can boast of having one street piano per every 4237 residents (14 pianos for 59,325 people [2013 Census Data])
Piano Key per capita: We can also boast of having one piano key per 48.15 residents!
So, get your groove on and come down to tickle a few ivories on any and all of the 14 pianos. Head to the Keys For The City Website or Music for everyone's Website for more information regarding locations and additional events around the pianos. You can also follow the pianos on the MFE Facebook page where we will be posting poctures and announcing various events and promotions relating to the pianos all summer long.
We'd like to thank the following lead sponsors for making Keys 2015 a reality, and for further solidifying Lancaster's status as the "Street Piano Capital of the World":
Lead Sponsors:
MFE Community Piano Sponsors:
In-Kind Sponsors:
Additionally we would like to thank the Artists who generously donated their time and talent to create some amazing looking pianos:
Music Fridays Continue to Grow!
If you haven't been downtown for a Music Friday recently, you should make it a point to attend the August 21st event. The crowds and "buzz" around Music Fridays continue to grow with over 20 "MFE street spot" acts spread throughout town. This, in addition to the Mothership Stage act in Binns Park: The Men From Tolex, and the 14 Keys For the City Pianos, makes for a truly happening downtown scene. We will see you on August 21st.
Round 2 of Camp MFE Starts August 3rd
MFE is gearing up for the second of two summer music camps at The Ware Center in Lancaster City. We are looking forward to another week of music and fun. These two weeks of camp are the result of our efforts to broaden our in-school academic year instruction through our "MFE in the Schools" program. These initiatives are all part of MFE's efforts to provide children, who otherwise might not have such an opportunity, quality music instruction, and mentorship throughout the entire year.
Be sure to check out our Youtube page for updated videos of performances for this year's camps.
Reminder: Ukulele Uprising
Come join the MFE Ukulele Uprising on Tuesday evenings at the Vision Corps building at 244 N. Queen St. All are welcome to this community building initiative.
Monthly Music Download
For this month's music download we are reaching back into the vaults to MFE CD sampler Vol. I. Lingering Doubts is our featured artist of the month, with their tune, "Unlucky Lucciano". Download and enjoy!