August 2017 News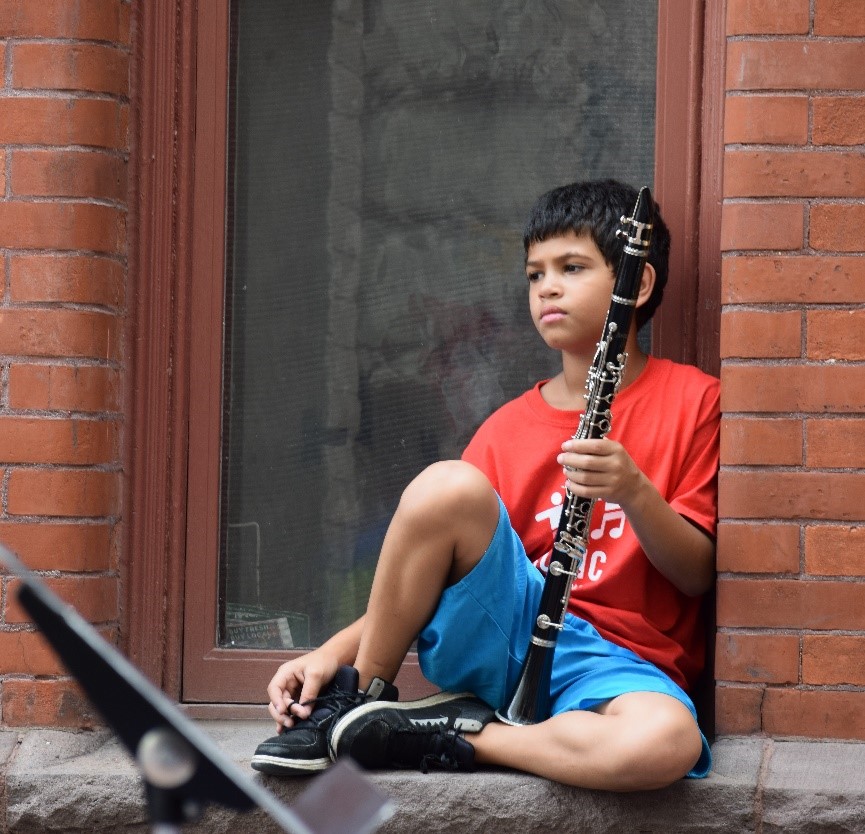 "Its not good enough to know just math, English, or science. You have to be able to put it all together, and hopefully in a way that no one else has figured out how to do before. To be the next great inventor of something we haven't dreamed of yet, you need to have creative skills. Music really fosters those creative skills." – Illinois Lieutenant Governor Sheila Simon
Save the Date – Saturday September 23rd For Music For Everyone's GREAT BIG PIANO PARTY!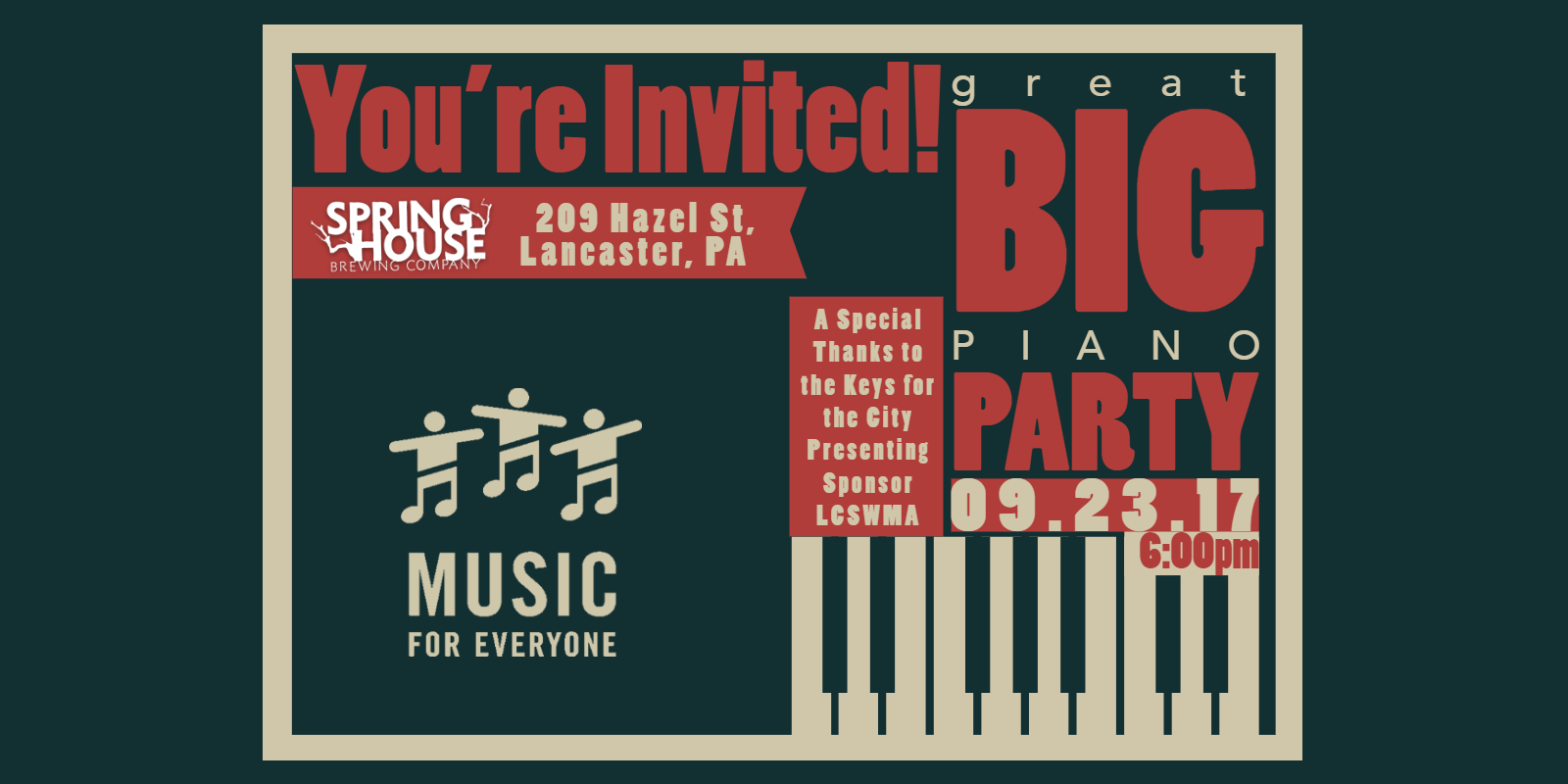 On September 23rd, Music For Everyone will host the "Great Big Piano Party". The event will celebrate eight years of magical musical street scenes in Lancaster through "Keys for the City". Music For Everyone often characterizes itself as "not being your grandmother's non-profit", in reference to the grassroots and unique ways the organization operates. The Great Big Piano Party is the embodiment of this mentality, combining stellar entertainment, food, and beverages with the fun and fonky vibe that MFE is so well known for producing. For this year's event, we are thrilled to announce that we will be teaming up with the Springhouse Brewery on Hazel Street, to create an unforgettable evening of music, dance, food, and drink.
So mark your calendar for September 23, 2017. If you have been to one an MFE event before, you know what we're talkin' 'bout! If not, we assure you it'll be in your best interest to be there. Formal invitations will be mailed shortly. If you have questions, contact MFE: MFELancaster@gmail.com. And remember "There ain't no party like a piano party".
Lancaster, PA "Street Piano Capital of the World"
As you have heard, (literally) Keys for the City pianos are still on the streets in downtown Lancaster. And while you've heard those pianos, have you also heard that Lancaster is the "Street Piano Capital of the World"? We can make this claim based on several metrics:
Consecutive years for the program: We've placed pianos on the streets for eight years running, the most consecutive years of any city that we are aware of.
Length of program: Our pianos are out for use by the public 24/7 for over four full months. Again, a longer stretch of time than any other city we are aware of.
Piano per capita: Lancaster can boast of having one street piano per every 3955 residents (15 pianos for 59,325 people [2013 Census Data])
Piano Keys per capita: We can also boast of having one piano key per 45 residents!
So, get your groove on and come down to tickle a few ivories on any and all of the 15 pianos. Head to the Keys For The City Website or Music for everyone's Website for more information regarding locations and additional events around the pianos. You can also follow the pianos on the MFE Facebook page where we will be posting pictures and announcing various events and promotions relating to the pianos all summer long.
We'd like to thank the following lead sponsors for making Keys 2017 a reality, and for further solidifying Lancaster's status as the "Street Piano Capital of the World":
Presenting Sponsor:

Piano Sponsors:
Berkshire Hathaway
Molly's Pub
MFE Community Piano Sponsors:
In-Kind Sponsors:
Music Fridays Continue to Grow!
If you haven't been downtown for a Music Friday recently, you should make it a point to attend the August 19th event. The crowds and "buzz" around Music Fridays continue to grow with over 20 "MFE street spot" acts spread throughout town. This, in addition to the Mothership Stage act in Binns Park: Big Boy Brass, and the 15 Keys For the City Pianos, makes for a truly happening downtown scene. We will see you on August 19th.
Music Fridays are made possible through the generous support of: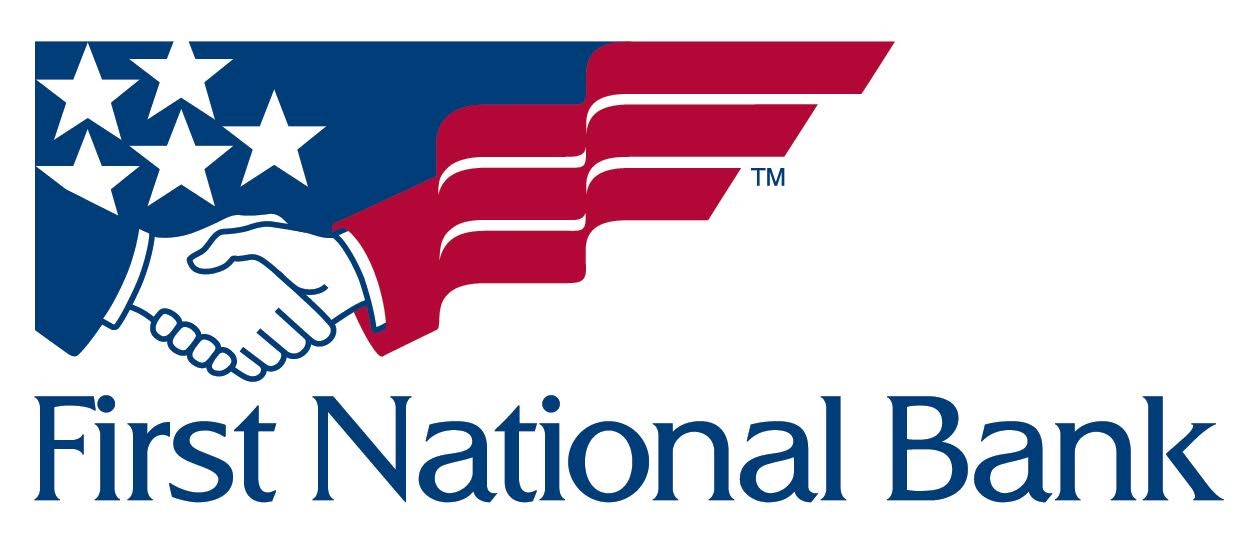 The MFE Singer Songwriter Showcase Continues.
Continuing on August 16th, MFE will host a singer-songwriter night on the third Wednesday of every month at Tellus360. This showcase is a great opportunity for musicians to bring some fresh material in front of objective ears and professional songwriters. While the showcase is a great way for musicians to hone their songwriting skills, it is also a yearlong competition. The four artists who bring in the largest audiences will have the opportunity to perform at the October showcase, which is also a benefit for MFE. So break out those axes, dust off the songwriting pad, tune up, and get on down to Tellus360 for the MFE Singer-Songwriter nights.
The Schedule for the Singer Songwriter Nights:
August 16 — Andy Metz (Opening: Lucille Ciconia)
September 20 — Jessica Smucker (Opening: Stephen Patterson)
October 18 — Sing-off
You don't have to be a musician to attend the singer-songwriter nights. Come support local music at its roots and have a great time
Original Classics returns on August 24th
Music For Everyone and Tone Tailors are excited to announce a concert series that will benefit Lancaster based non-profit Music For Everyone. The series dubbed "Original Classics" will feature five Lancaster bands performing classic albums from some of the greatest musicians of all time. Each show will showcase two bands with one band playing an original music set, and the other highlighting the featured album. The series will return on Thursday August 24th at Tellus360 with Snapsquatch performing Like a Virgin by Madonna, and Hiding Scarlet performing an original set.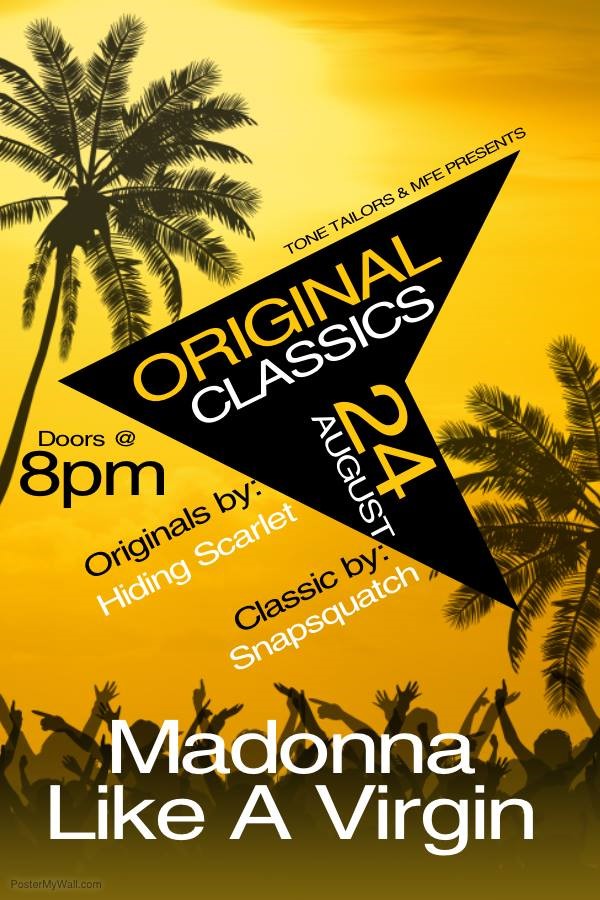 The series has been organized by Tone Tailors, Music For Everyone, and Fine Living Lancaster.
100% of the proceeds raised during the Original Classics series will go to support music programs in
Lancaster County For more information on either the Original Classics series or Music For Everyone please contact MFELancaster@gmail.com.
 MFE and the Willie Marble Xperience Tellus360 Concert Series
Music For Everyone has joined forces with The mysteriously swampadelic Willie Marble Xperience and Tellus360 in a concert series to benefit Lancaster non-profit organizations. This month's concert will benefit The Arch Street Center and will be held on August 17th!
Doors will be at 7:00pm and the show will begin at 8:00pm. The event is for ages 21+ and admission is a suggested donation of $10.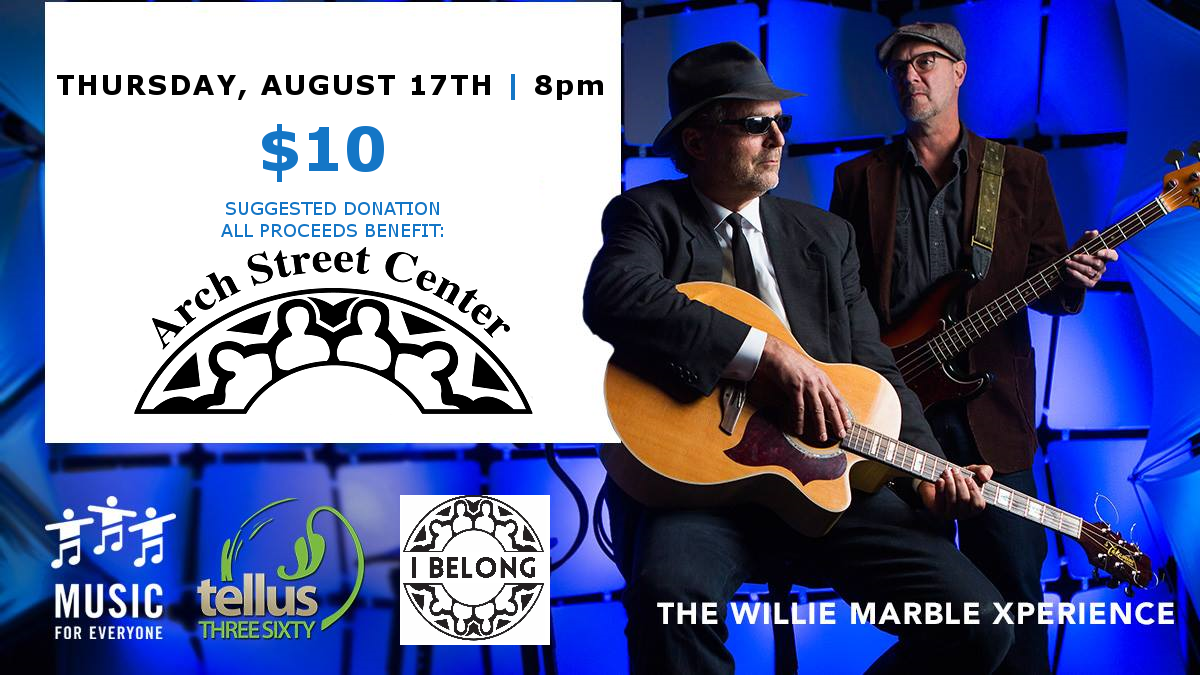 Music For Everyone Approved to receive funds from the EITC!
MFE has a great opportunity for businesses to both contribute funds to MFE and receive a tax credit at the same time. How you ask? Through the Pennsylvania Educational Improvement Tax Credit, also known as the EITC.
This credit allows a business to pledge funds to a non-profit educational organization and deduct 75-90% of that contribution as a tax credit. For example, if your business were to pledge $10,000 for two years to MFE, your business could write off $9,000 of that donation. That's a $10,000 donation that only costs $1,000! Think about how many instruments we could provide to schools in Lancaster County with those funds, all while allowing your business to benefit from a tax credit. If you would like to know more please contact Brendan at MFElancaster@gmail.com.
Reminder: Ukulele Uprising
Come join the MFE Ukulele Uprising on Tuesday evenings at the Vision Corps building at 244 N. Queen St. All are welcome to this community building initiative.
Monthly Music Download
For this month's music download we are reaching back into the vaults to MFE CD sampler Vol. I. Lingering Doubts is our featured artist of the month, with their tune, "Unlucky Lucciano". Download and enjoy.
Until next time Lancaster, Play on!