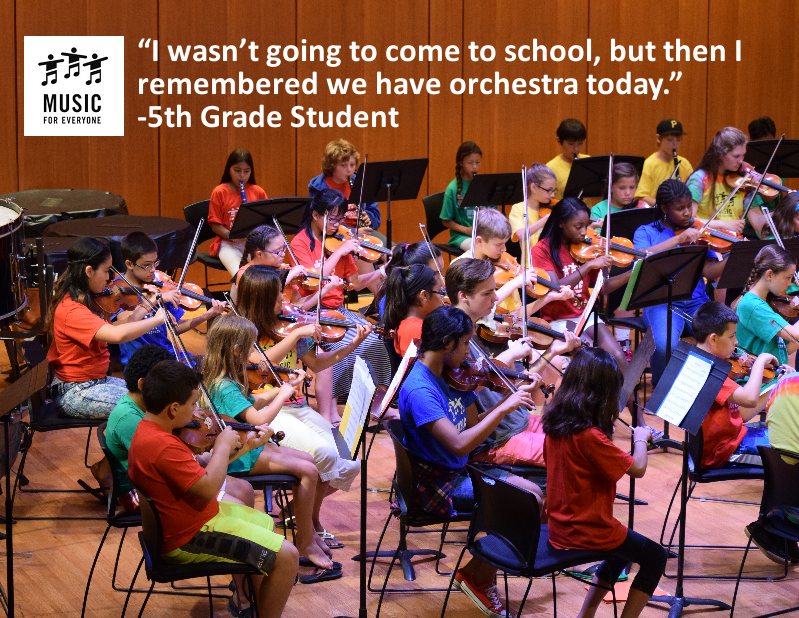 This Month in Music For Everyone:
MFE Now Accepting Grant Requests

Need some money to enhance your school or community based music program? Know a music educator who's program could use some support or new instruments? Starting this month, MFE will begin accepting applications for our 2018 grant cycle. This year we are planning on investing at least $100,000 in our community through grants. Grant applications must be submitted by February 8, 2018, to be considered for an award. For more information and guidelines visit the "Grants" section of our website by clicking (HERE).
Back to the Top!
Refugee Benefit Concert Series

On January 28th, MFE is teaming up with Church World Service, the Lancaster County Community Foundation and Tellus360 for a concert to raise awareness and show solidarity with refugees who have moved into our community. This concert is a benefit for CWS and open to the public as a community building effort by bringing our community closer with the refugee population.
The event starts at 3:00 PM and will feature a whole host of Lancaster Musicians. Entry is by a suggested donation of $10. So come and be a part of a great community building event. We look forward to seeing you there.
Back to the Top!
"MFE in the Schools" Update.

"MFE in the Schools" is still going strong! Our Music Mentors work with almost 400 kids per week in 11 different schools to strengthen music programs in SDOL and Columbia School District. The program continues to be successful and is directly cultivating the power of music as an educational tool.
MFE would like to thank the following for their generous support of this program:
Thomas & Georgina Russo Family Foundation
Clair Brothers Audio Enterprises Inc.
Clark Associates Charitable Foundation
The Lancaster County Community Foundation
The Fulton Family Foundation
The Woman's Symphony Association
The Barshinger Family Foundation
The Lancaster Rotary Club
The Witmer Family Fund
The Rotary Club of Lancaster
Back to the Top!
MFE and the Willie Marble Xperience Tellus360 Concert Series
Music For Everyone has joined forces with the mysteriously swampadelic Willie Marble Xperience and Tellus360 in a concert series to benefit Lancaster non-profit organizations. This month's concert will benefit The Lancaster Public Library and will be held on January 18th.
Doors will open at 7:00pm and the show will begin at 8:00pm. The event is for ages 21+ and admission is by donation.
Back to the Top!
Reminder: MFE Ukulele Uprising

Come join the MFE Ukulele Uprising on Tuesday evenings at 7:30pm at the VisionCorps building (244 N. Queen St.) All are welcome to this community building initiative.
Back to the Top!
MFE Download of the Month

Sometimes you have to go into the MFE Music Vault to add a fonky, fun, good time to the monthly music download. For that, we are reaching back to MFE compilation Vol. III for a tune titled "Wanderer" by Ghosthouse. Head to www.musicforeveryone.net now to download this great tune FOR FREE!
Back to the Top!