This Month in Music For Everyone:
Join MFE and LCSWMA for the 2018 Keys for the City Kickoff Event!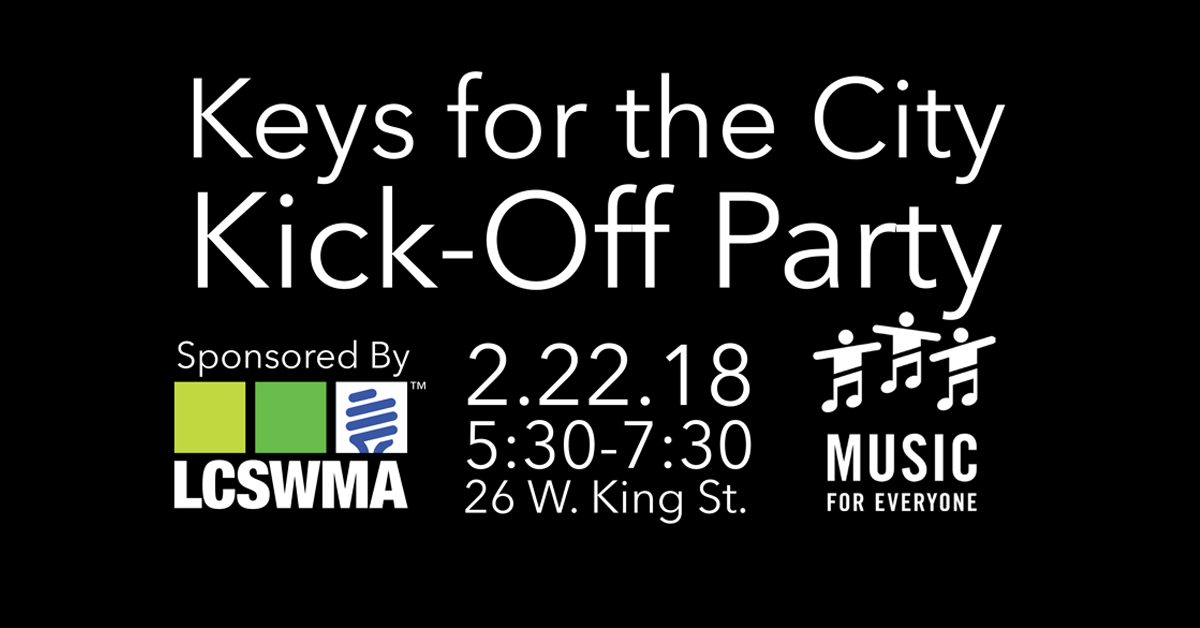 Please join us as we celebrate the official kickoff of the 2018 Keys for the City season with the announcement of an exciting new art and music initiative.
Thursday February 22rd at 5:30 – 7:30pm
The Pressroom Restaurant (26 W. King St. Lancaster)
Cash Bar, Signature Drink, Appetizers and the Tom Pontz Jazz Trio.
Interested in becoming a sponsor of Keys for the City? Click HERE
Keys for the City 2018 Piano Sponsorship Opportunities
Interested in a great way to advertise your business while supporting one of Lancaster's most popular, fun and fonky public music and art exhibits? Then you should consider sponsoring an MFE Keys for the City Piano this summer! All proceeds from Keys are applied to the annual MFE grant program, which provides instruments and program support for school and community music programs in our county. For details call John Gerdy at 717-475-5659 or email him at Johngerdy@aol.com.
MFE Grants Deadline is Approaching!
Need some money to enhance your school or community based music program? This year we hope to invest at least $100,000 in grants. Grant applications must be submitted by February 8, 2018 to be considered for an award. For more information and guidelines visit the grants section of our website.
We are pleased to announce our 2018 Spring "MFE Scholars", Nathan Morgan, Bridgette Horning, and Jarrod Lloyd. All three are Millersville University Music Education majors, who aspire to become music teachers.  In exchange for their $2,000 scholarships, they will work in a SDOL school under the direction of a music teacher developing a music education curriculum. Three additional MFE Scholars will be chosen later this spring to work in a school during the fall of 2018.
Additionally, MFE is thrilled to announce two additional MFE Scholars, Zach Terrazas and John Payson. Zach is our Music Business Technology in the schools scholar. In exchange for his $2,000 scholarship he will be working with several schools in the School District of Lancaster to record their ensembles. In exchange for his scholarship, John will be working with the Lancaster Boys and Girls Club to teach and develop a recording curriculum.
Congratulations to all of our scholars! MFE is proud to invest in those who want to cultivate the power of music!
MFE Announces the Sixth Annual "Lancaster Festival of Voices"
The Lancaster Festival of Voices is an annual celebration of the vocal arts in Lancaster, PA. Lancaster is enjoying a renaissance as it emerges as a destination for artists of all genres. This renaissance has benefited the city both culturally and economically. The Lancaster Festival of Voices provides a supportive venue for singers of all ages, thus creating awareness of the voice as an instrument and bringing yet another genre of music to this musically thriving community.
This year MFE is partnering with Tellus360 and the Thomas and Georgina Russo Family Foundation to bring the FOV to Lancaster. Check out the schedule below and mark your calendars now.
For more information on the 2018 Festival of Voices click here.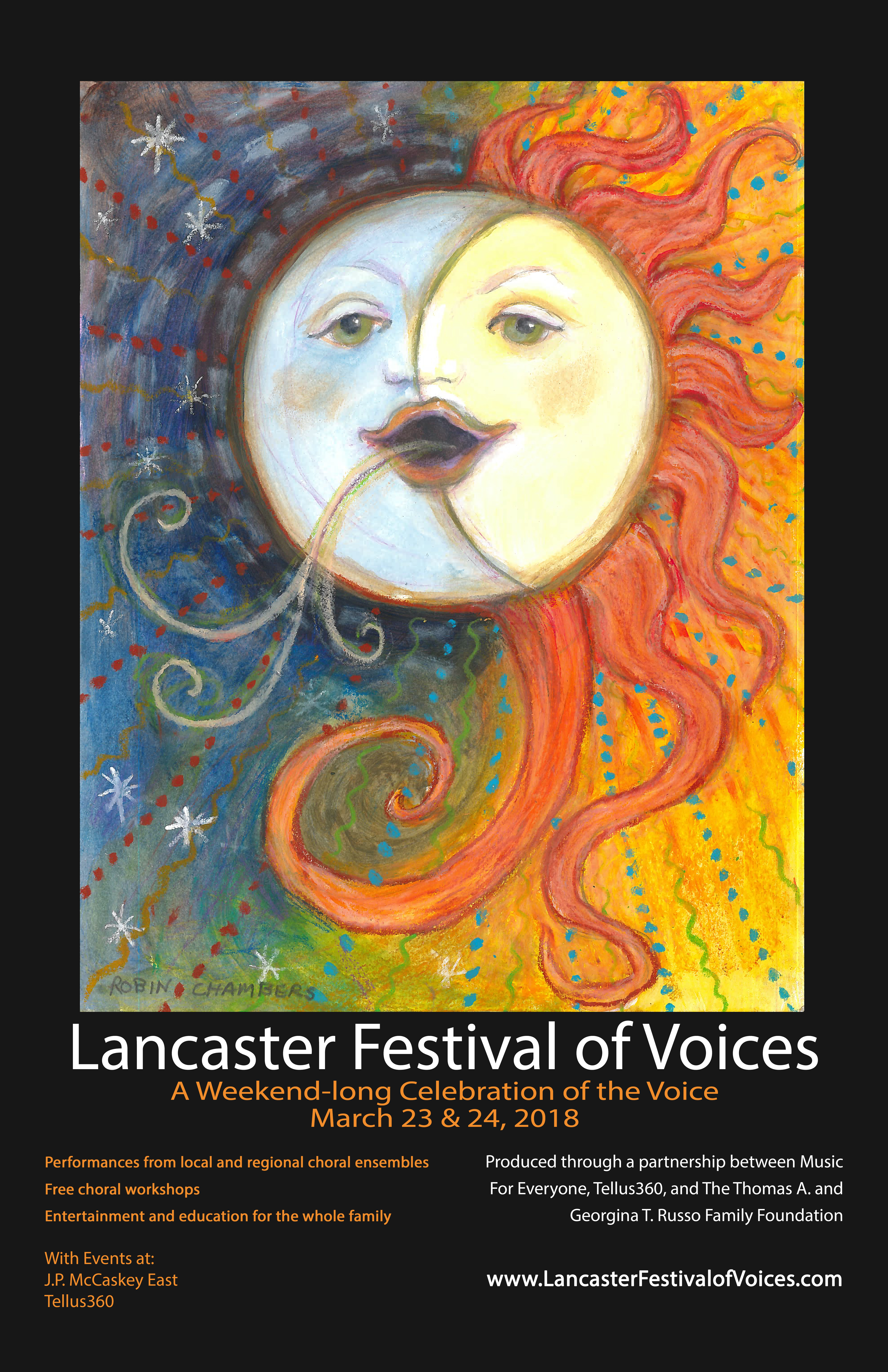 Want to help Amazon donate money to MFE?
We are pleased to announce that MFE is now part of Amazon Smile. This means by simply shopping on Amazon, they will donate a portion of that sale to MFE! You do not pay anything extra as Amazon puts up the money for the donation. It is that easy! All you have to do is sign up, and shop…
To shop at Amazon Smile simply go to http://smile.amazon.com/ch/20-2997260 from the web browser on your computer or mobile device. You may also want to add a bookmark to Amazon Smile to make it even easier to return and start your shopping at Amazon Smile.
So how do you get started?
On your first visit to Amazon Smile, you must select a charitable organization to receive donations from eligible purchases before you begin shopping. Amazon will remember your selection, and then every eligible purchase you make on Amazon Smile will result in a donation.
That's right; if you purchase an item Amazon will donate a portion of that purchase to Music For Everyone. This means you are helping MFE while purchasing items you would purchase regardless! Sign up today and have Amazon donate to Music for Everyone! http://smile.amazon.com/ch/20-2997260
MFE and the Willie Marble Xperience Tellus360 Concert Series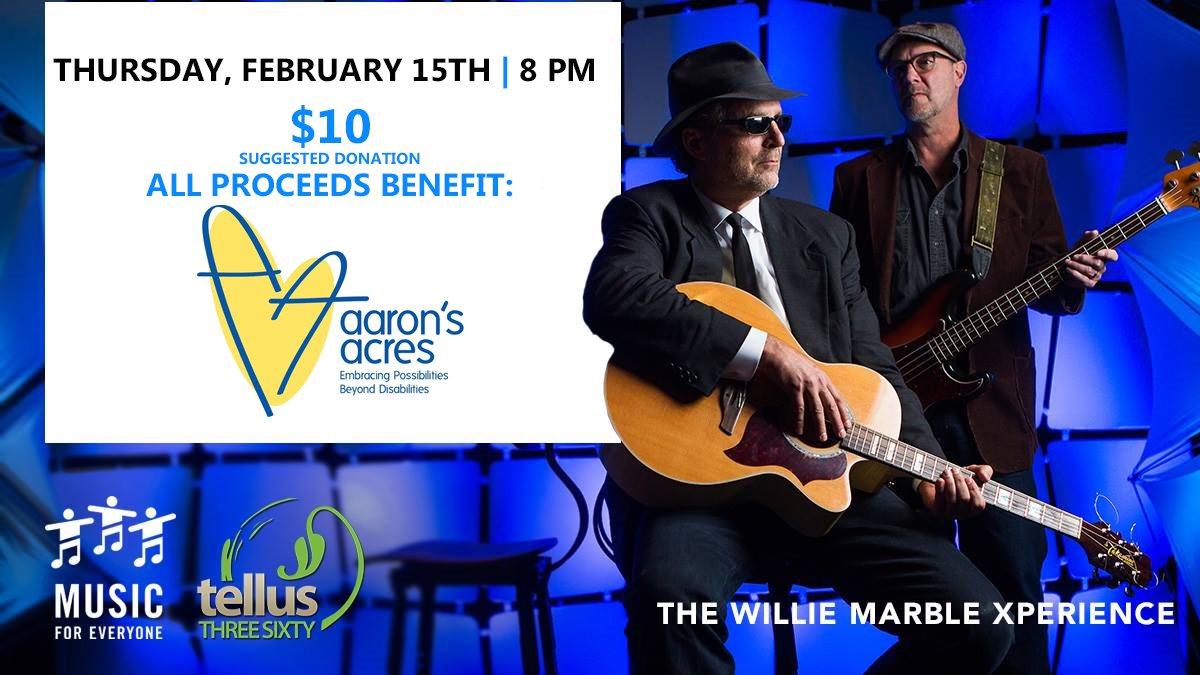 Music For Everyone has joined forces with the mysteriously swampadelic Willie Marble Xperience and Tellus360 in a concert series to benefit Lancaster non-profit organizations. This month's concert will benefit Aaron's Acres and will be held on February 15th.
Doors will open at 7:00pm and the show will begin at 8:00pm. The event is for ages 21+ and admission is by donation.
Reminder: MFE Ukulele Uprising
Come join the MFE Ukulele Uprising on Tuesday evenings at 7:30pm at the VisionCorps building (244 N. Queen St.) All are welcome to this community building initiative.
Back to the Top!
February's Monthly Music download is none other than the Willie Marble Xperience. Track Number 1 off their latest album – Songs in the Key of Marble – "Too tall to Mambo" is the name of the tune and it's a great one. Enjoy!