Third Friday of Every Month, May-Sept
Downtown Lancaster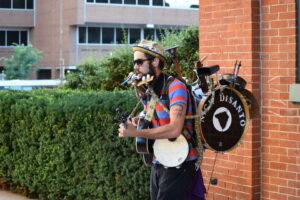 Since 2009, Music For Everyone has collaborated with The City of Lancaster to make the third Friday of each month "Music Friday". The idea is to fill Lancaster with music as a way to attract people downtown: not only to enjoy music, but to patronize the area's stores, galleries and restaurants.
This year, we're bringing Music Friday back in a BIG way! In addition to the street spots and stages positioned around downtown Lancaster, we'll adding stages in each of the four quadrants of the city. Locations and details coming shortly!
Want to be a Music Friday performer? Sign up below.
40+ Music Vendors
10 City Blocks
Ben Oakes & Bones Culture
Mad Cap & Co.
Ariana Ford
Calabar Meat Co.
Steel Radiance
6th Ward Park
Earth Rhythms Community Drum Circle
Prince St Parking Garage
Kelsee Hunt
Orange & Queen
Guitars for Vets
Ware Center
The MFE Sound Factory
(Roving)
James Conner
Esoart
Midst the Noise
Culliton Park
Something Else
Silantra
Before the End
PCAD Art Park
Lincoln Jazz in the City
Penn Square
Kuf Knotz and Christine Elise
Dreaming Human
Help Keep Music on the Streets
Love Music Fridays? Consider a donation to support 3rd Fridays in Lancaster!
Artist Registration
Are you a performer or musical artist? Want to get involved with Music Fridays? Please fill out the form below: