MFE
Headlines.
There is a lot going on and we want to keep you in the MFE loop!
#KeysPics #MusicForEveryone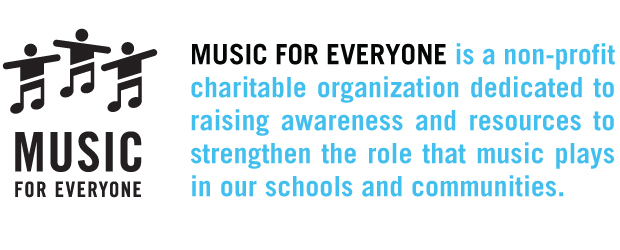 Since 2006, MFE has awarded over $1.0 million in grants, scholarships and direct program support to schools and community arts groups in Lancaster County.
Here's why we exist:
Music is important to our community.
Research shows that music education helps create strong schools and vibrant communities.
Music programs are in financial trouble.
Despite overwhelming evidence of their value, funding for music programs is being slashed.
Music for Everyone is doing something to help.
Our mission is to cultivate the power of music for education and community building.
Our strategy employs three steps:
1. Consult with education and community leaders to identify and assess needs of school and community based music programs,
2. Raise community awareness of those needs and resources to address them,
3. Strategically invest those resources to effectively and efficiently address those needs.
More about us
Monthly 
Download
My Own Way
(
Click here
to download, and it's yours!)
Latest
MFE

news
Twitter Feed.
It's Music Friday! Head downtown to grab a bite or browse some art while listening to free live music! sponsored by… https://t.co/OzSoybkK1I1 day ago
Looking for a way to satisfy your sweet tooth this weekend? Stop by the Lancaster Sweet Shoppe on Duke St tomorrow…… https://t.co/GnhvSTUvZm1 day ago
Even the MFE office gets used for #campmfe! Making use of all the spaces in the Ware Center this week! #camplife #…… https://t.co/0j0TDTiDG71 week ago
The Music For Everyone Community Chorus performed the National Anthem live at Citizens Bank Park! You can check out the Video here:
Our Executive Director John Gerdy recently delivered a TEDx talk about the value of arts as a community investment! Watch it and share it with a friend:
Check out the "Great Grant Give-out". In May we gave over 600 instruments to schools & Non-profits. To date MFE has granted over 3,000 instruments!
The MFE Student Strings Perform at TEDxLancaster! Several of our Student Strings had a very special performance opportunity, watch it here:
The Tellus Takeover was a blast. Check out the video and learn more here