Ukulele Uprising! is a community ukulele orchestra, open to players of all ages, and dedicated to having fun with music, nothing more.
Visit their website by clicking here – after, of course, you read this awesome overview:
15

Members of UU

4

Total Strings

UU!

Abbreviation
Ukulele Uprising! was started by Stephen Patterson, a life-long guitar player, after he learned through friends of the growth of community-based ukulele groups throughout the country – and the world.  The uke is a good-time instrument, easy to learn for anyone, and especially fun to play in groups.  Steve thought that this would be a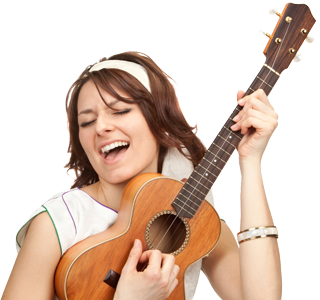 perfect project to bring to MFE, and agreed to lead the group when MFE gave its enthusiastic support.
Four ukulele players came together for the first UU! meeting in April.  The group grew rapidly to a dozen players. The most experienced of the group are intermediate players, and we have a few complete beginners strumming along as well.  We got started by playing (and singing) simple, well-known tunes like "This Land is Your Land," "Goodnight Irene," and "When I'm Sixty-Four" — and we continue to add songs to our repertoire.
Ukulele Uprising! is open to all.  If you are a beginner, or just want to give us a try, please join us.  We have loaner ukes and we are happy to spend time teaching you the basics.
If you want to join us, just send an email to Dave or Dana at  uke.rise@gmail.com.