Donate securely online here:
Don't have a PayPal account? No problem! Click the PayPal logo above and follow the instructions to donate with a credit card.
Your support truly matters to our organization. As a grass roots non-profit every dollar makes a difference. To that end here is an idea of how your donation can impact MFE's mission:
$10 can restring a student's Ukulele.
$25 can restring a violin or a cello
$50 can repair a school's broken instrument.
$100 can provide a student with a brand new violin.
$500 can provide an entire classroom with ukuleles.
$1000+ can underwrite a music mentor for our "MFE in the Schools" program, strengthening music programs and providing one on one instruction.
Thank you in advance for your support!
Email us your comments and questions.

Prefer to donate via check? Send your tax deductible contribution to:
Music for Everyone
42 North Prince Street
Lancaster, PA 17603
717-871-1710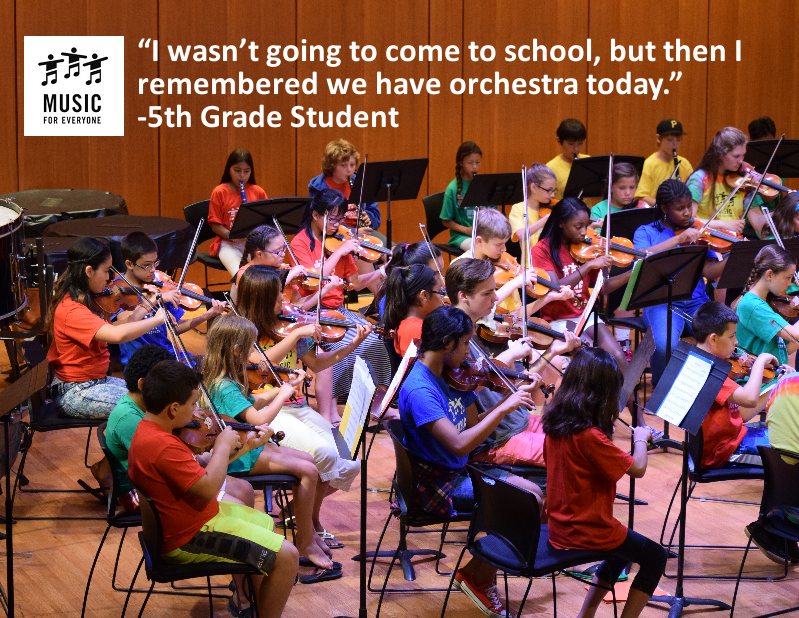 About MFE
Since 2006, MFE has awarded over $850,000 in grants, scholarships and direct program support to schools and community arts groups in Lancaster County.
Here's why we exist:
Music is important to our community.
Research shows that music education helps create strong schools and vibrant communities.
Music programs are in financial trouble.
Despite overwhelming evidence of their value, funding for music programs is being slashed.
Music for Everyone is doing something to help.
Our mission is to cultivate the power of music for education and community building.
Our strategy employs three steps:
1. Consult with education and community leaders to identify and assess needs of school and community based music programs,
2. Raise community awareness of those needs and resources to address them,
3. Strategically invest those resources to effectively and efficiently address those needs.