Description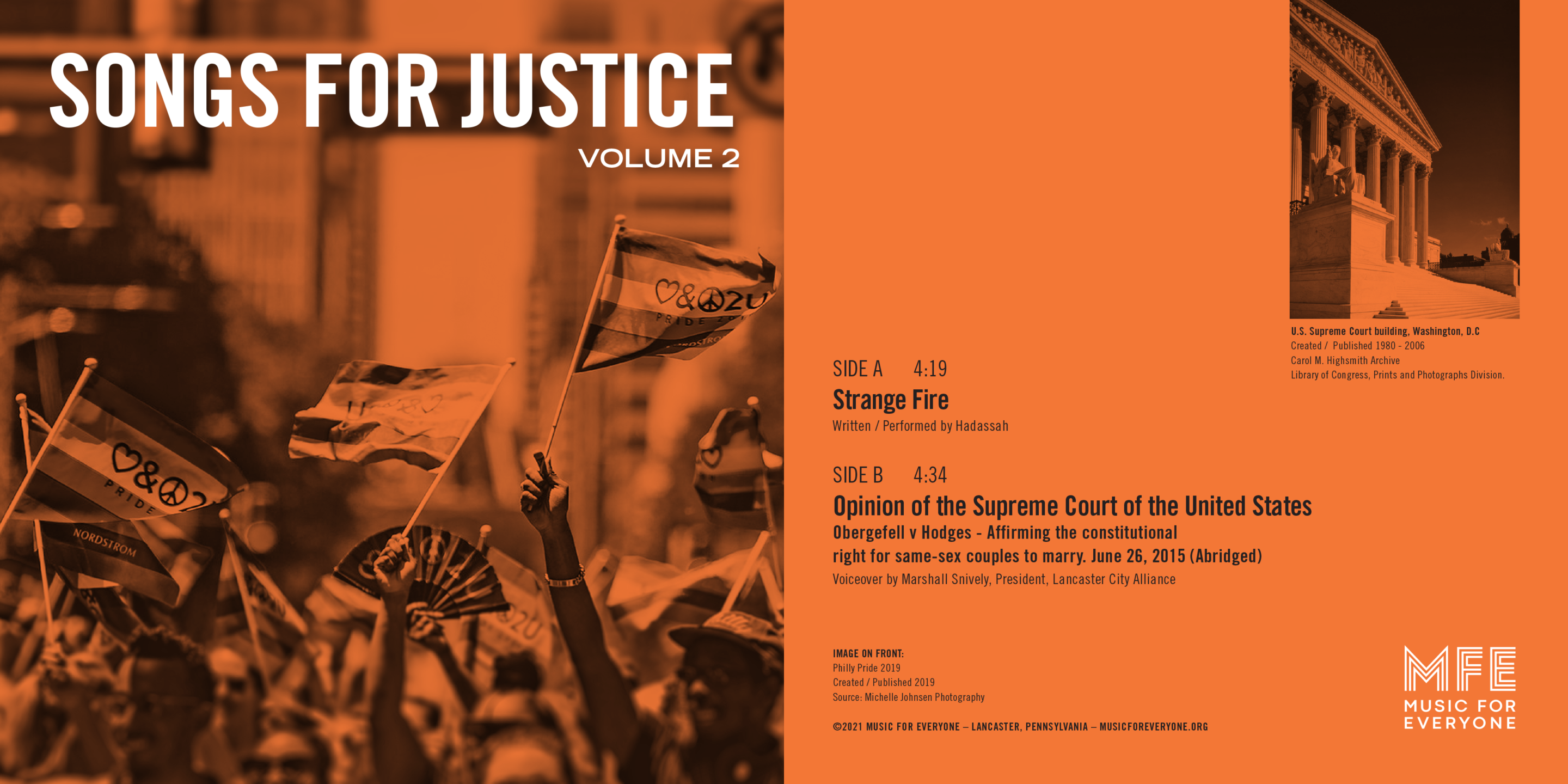 Inside the Album:
Hadassah – "Strange Fire"
Check out Hadassah's music on BANDCAMP or INSTAGRAM
---
---
Kaya Hobbs – Queer Liberation:
---
Brian Graves – Poet
---
MFE is proud to partner with local community benefit organizations who are doing exceptional social justice work. In this volume of Songs for Justice we highlight the Lancaster LGBTQ+ Coalition.
Lancaster LGBTQ+ Coalition is a 501(c)(3) organization that works to build a supportive and enriching community abundant in opportunities for LGBTQ+ individuals and those with a stake in creating a more inclusive Lancaster County.
Since our first stakeholder meeting in February of 2019, we have been creating community partnerships to tackle issues such as access to dignified healthcare, affordable affirming shelters and retirement communities, and spaces where all intersections of our community feel heard and at home. We have worked closely with Union Community Care and to help ensure truly affirming healthcare. In response to the housing crisis worsening due to the pandemic, we started the Homeless Emergency Assistance and Response Team (HEART) program to help folks live in supportive and affirming subsidized housing.
"Housing has been a primary concern for us, specifically for ages 26 and under. As a therapist I heard firsthand of the accounts of kids and young adults living in emotionally abusive and unsupportive homes. 40% of of homeless youth served by agencies identify as LGBTQ+ and there is nowhere in Lancaster County that we can send our community to that will support and affirm who they are."  – Karen Foley, Executive Director, Lancaster LGBTQ+ Coalition
How you can help:
Volunteer for the HEART program or donate in support of the Lancaster LGBTQ+ Coalition, including personal donations as well as corporate gifts and housing sponsors.