Choral music originated in the 2nd century BC in ancient Greece, where the chorus was an important part of the theater. Choral music fizzled out for a while, but around 500 AD, Benedictine and Gregorian monks began to sing in unison, in what was called "plainchant." In order to vary the plainchant, which could become monotonous, composers began to write more interesting melodies above the plainchants, in effect creating polyphony (several different parts harmonizing with each other). Soon, these harmonies became more complex as composers were given more freedom. When composers wanted to create higher melodies, female voices were added to the mix.
Traditionally, choral music became a form of worship, most often heard in churches. As we'll see at Festival of Voices, there are many different types of choral music. The performers who will appear at the festival represent diverse groups. One of the groups will be the MFE Community Chorus, which provides a place for people of any age,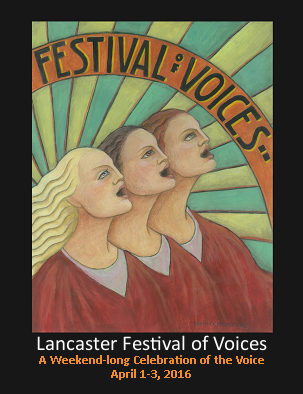 or skill level to join in a community of voices. There will be representation from local schools and universities as well. Millersville University's Chromatic Expansion, the Lancaster Bible College Chorus, the Susquehanna Waldorf School, and the Pequea Valley High School Chorale will all be performing. Another exciting group that will be performing is The Cat's Pajamas, an a cappella group of five men who have been featured on America's Got Talent and The Sing-Off.
Why choral music? A 2009 study by Chorus Impact showed that choral music has a positive impact on childhood development and on a student's academics. It also teaches valuable life skills. Choral singing brings people together, giving them a valuable sense of community and an outlet for artistic expression. When I was in high school, I was hesitant to join my school's choral group, but I finally did, at the request of several friends. I had always enjoyed singing, but being in front of people made me nervous. Joining the chorus helped me to build relationships; it also helped me to grow more confident. By the end of my senior year, I was singing duets and even solos with a confidence I could not have found anywhere else.
The Festival of Voices will provide a supportive venue for diverse groups of singers, and will even end in a special edition of Acapellus360. Anyone can enter as long as they prepare 2 songs and bring at least 3 friends to help them sing. These songs must be performed a cappella, with no instrumental backing. Winners will receive a prize pack of goodies form Tellus360.
Learn more about this year's 2016 Festival of Voices. This year is our biggest festival to date. We will have several performances at multiple venues, with free choral workshops, a film series, and an entire weekend of celebrating the power of the human voice!