MFE In the Schools
MFE In the Schools
Since 2006, MFE has been providing money through an annual grant program to Lancaster County schools and community arts groups. The over $770,000 awarded has helped address the growing music "instrument gap" by enabling schools to purchase and repair instruments.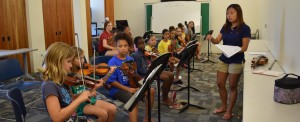 But as we became more involved with schools through the grant program, it became apparent that in addition to an "instrument gap", schools were experiencing a "mentoring/instructional gap". In other words, you can provide every child in a class or ensemble of 30 with brand new instruments, but if there is only one instructor, those instruments will never fully unleash their music education magic. Consequently, in 2010 we launched "MFE in the Schools". The primary thrust of this program is to underwrite professional musicians and teachers to go into schools to work alongside teachers and directly with students. These "music mentors" operate at the discretion of the SDOL music teachers providing whatever instructional help is needed, whether with a large group, small ensemble or individual instruction.
To date, MFE has invested more than $200,000 in this initiative. During the 2011-12 academic year, the focus of the program was on string instruments, with Dr. Michael Jamanis, along with several volunteer high school students, providing the instruction. During the 2012-13 academic year, MFE was able to expand the program to include mentors in wind instruments (Ryan Kauffman) and brass instruments (Kate Umble). Together, MFE in the Schools mentors have direct contact with over 300 students per week. Currently Michael Jamanis, Ryan Kauffman (wind), Angela Lansinger (strings), and Gentry Stoltzfus (brass) are working with students in the "MFE In the Schools" program.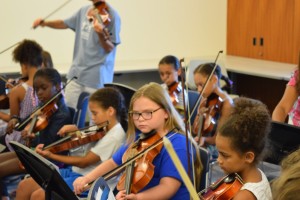 Additional mentors are provided through the "MFE Scholars" program. Each year, MFE provides four Millersville University Music Education majors each with a $2,000 scholarship. In exchange for that scholarship, these students must "volunteer" in an SDOL school, working at the direction of an SDOL teacher and directly with students. In 2015 MFE has also added a Music Business and Technology scholarship award. The student who receives this scholarship will work under the direction of SDoL teachers to record student ensembles.
Similar to how providing instruments through our grant program informed us of the additional "mentoring/instructional gap" in our schools and thus lead to providing "music mentors", providing music mentors has revealed additional gaps and needs. The goal of MFE in the Schools is to help our schools provide all children with a comprehensive music education experience. To that end, we've incorporated additional elements into MFE in the Schools. In short, this program is about more than simply providing music mentors.
The first element is driven by the fact that nothing contributes to building positive self-esteem in young people more than experiencing the immediate, positive feedback for performing a particular skill that they have worked to develop. To that end, MFE works to create opportunities for student groups to perform in public. One example is the various student groups performing during the annual MFE Grant Awards Celebration in Binns Park in downtown Lancaster. Additionally, the "MFE Strings", a string ensemble that meets after school for those students who want to immerse themselves in the music experience more fully, perform throughout the city on a regular basis.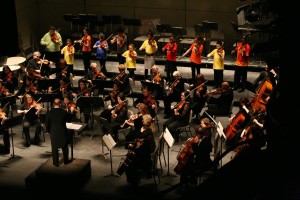 In an effort to provide additional self-esteem building opportunities, MFE also underwrites the expenses for any school group or ensemble to record a song or songs in the Millersville University's recording studio under the guidance of MU Music Business and Technology majors. Several schools have taken advantage of this opportunity. In fact, some of those songs have ended up on an annual MFE CD that features local musicians.
We also believe that it is important to provide students with examples of quality music performance in their schools. To that end, MFE has sponsored various in-school performances and workshops. One example is the workshop provided by the Fishtank Ensemble, a Los Angeles based gypsy jazz quartet, that performed at Washington Elementary School in September 2012. Additionally, MFE has partnered with Millersville University's Music Department to present a concert series featuring various MU student groups and ensembles. This series started in the spring of 2013, with a clarinet, percussion and flute ensembles performing concerts at several SDOL schools. It is hoped that young students will be inspired by quality in-school performances like these.
Finally, MFE in the Schools is not simply an academic year program. In an effort to provide children with music opportunities throughout the year, MFE conducts two weeks of summer music camp. Most participants are students who our music mentors work with during the academic year who attend on "scholarship". The summer camps are a good way for the students to keep their music skills sharp throughout the summer as well as providing an opportunity for our music mentors to keep in touch with the students during the summer.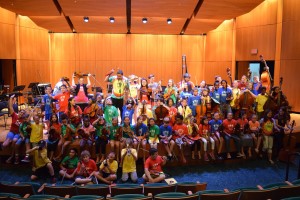 But MFE in the Schools has only begun to scratch the surface in terms of potential to improve the quality and quantity of music education opportunities for Lancaster County students. While MFE's annual grant program has awarded resources to schools in all of the 16 school districts of the county, MFE in the Schools has, to date, been focused on SDOL schools. Moving forward, it is our intent to begin to offer more of the various elements of this program to schools throughout Lancaster County. Our ability to accomplish this will depend on how much money and resources we can raise.
Speaking of money, we'd like to thank several sponsors who have made MFE in the Schools possible. In particular, we'd like to thank the Tom and Gina Russo Family Foundation as they provided an initial, three year, $15,000 per year matching grant to get the program off the ground. Additional major sponsors include The John F. Steinman Foundation, The Pennsylvania Council for the Arts and Clark and Ethlemae McSparren. To these and all others who have contributed to making MFE in the Schools a success, your support has been music to our ears and we thank you!